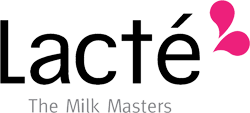 Lacté is a home grown Malaysian brand, specialising in breastfeeding
products. Lacté strives to be The Milk Masters who are passionate in
promoting and normalising breastfeeding. Apart from empowering
parents that breast is best, Lacté designs and manufactures
breastfeeding product.

Our first product is Lacté Duet Electric Breastpump. The name 'Duet'
derived from its very unique feature that the duo breastpump is
working from two discrete motorised pumps, which equals to using
two single breastpumps. This feature will ensure that suction power
is equal between 2 breasts, since there is no sharing and splitting in
suction power through any Y or T connector. Besides, mother is able
to adjust the suction power of one side to be greater than the
other side to relieve the different engorgement level. This
feature helps when one side of the breast is producing lesser
milk from the other side too.

Last but not least, should one motor is faulty, mother is still
being left with another motor, and able to continue pumping.
The idea of a real duo pump came to our mind after many rounds
of focus group and surveys among breastfeeding moms on the
issues they face, day in day out, when they are breastfeeding
and expressing.
Extra unique features on Lacté duet breastpump:
Silent operation, as we hear moms said that they need to do it very discreetly, from their work cubicles or during a meeting, in a conference room full of their other colleagues, or just do not want to wake the baby up – not all white noise are welcome!
Unique soft breast shield design, which 'holds the breast (any breast shape and size!) like how baby does', reacting to the pumping rhythm which mimic baby's suckling for maximum comfort and stimulation. This is not possible using any hard breast shield.
Small, palm sized and light weight for the ease of traveling. It works on battery using an external battery case (tested with Energizer battery and Sanyo "envelop" rechargeable battery). The battery compartment is not built in, to keep the pump at its perfect weight and size, considering that the machine is already having 2 pumps.
Lacté will continue in designing and manufacturing more of mothers inspired breastfeeding products. A few more products are in the pipeline. We strive to continue doing our best in promoting and normalising breastfeeding, not only in Malaysia but worldwide.